For Jazzmyn Charmaine Carter, seeing an enormous number of dogs and cats lying motionless and bleeding on the side of roadways after being struck by vehicles in her Riverdale, Georgia community was heartbreaking. It was this and witnessing dozens of homeless dogs and cats roaming her neighborhood that also troubled her. During their quest, the animals often toppled garbage cans and ripped through trash bags searching for food while strewing refuse all over the streets and in yards. Some of the animals were so emaciated, malnourished and bloated that their rib cages bulged. Filled with compassion and a willingness to go the extra mile to help, Jazzmyn often took a few to her home to care for and nurture. However, her efforts did very little to address the root of the problem.
"I didn't want to see any more animals die from being hit by cars or homeless and in need of help and medical care," she said. "I had to take action and do something about the animal overpopulation. And I knew spaying, neutering and educating owners and the communities–at–large were the best solutions. However, I didn't know where to begin."
After graduating with a Bachelor of Science degree in Animal Science from the University of Arkansas at Pine Bluff in 2012, she quickly immersed in the veterinary field. She became an Animal Behavior College Certified Veterinary Assistant (ABCVA) in 2013 and worked as a veterinary assistant in Decatur and Atlanta, Georgia and as a triage supervisor for an animal shelter in Chattanooga, Tennessee. It was while working as a clinical operations manager for a spay/neuter clinic in Duluth, Georgia that she realized it was time to return to Georgia and tackle the animal overpopulation problem.
"I always knew I'd return to my home county [Clayton County] to help animals, but didn't know what the best solutions were," Carter recalled. "Working in the veterinary field clarified everything, and I gained a better understanding of what needed to be done."
Ready to get started, Jazzmyn moved to Jonesboro, Georgia and soon founded Jazzy Paw, Inc. on March 10, 2017. Jazzy Paw is a canine and feline spay, neuter and wellness clinic for cats and dogs; it offers heartworm tests, deworming, microchipping and preventatives.
"Wellness is an essential aspect of what the clinic teaches. There's a lot more to owning pets than merely feeding them," she said. "Pet ownership entails much responsibility and an investment of an owner's time and resources. Part of that responsibility is ensuring the animal is neutered or spayed, is appropriately tagged with identification information or micro–chipped, is up–to–date on vaccinations and receives medical care when necessary."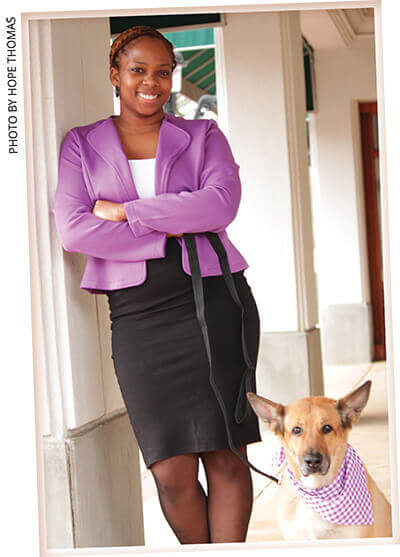 Why it works
Southern states such as Georgia and Texas have some of the highest euthanasia rates in the U.S. at 2.4 million and 2.7 million, respectively. In Henry County Georgia, for example, 482 dogs and 561 cats were euthanized in 2016. That number increased in 2017 to 560 dogs and 649 cats killed, according to Metro Atlanta Animal Control Statistics 2017 Statistical Data compiled by the Georgia Stopping Pet Overpopulation Together Society (SPOT). 
Jazzy Paw serves all residents, but primarily low–income individuals, including the elderly, college students and veterans who reside in four metro Atlanta, Georgia counties, including Clayton, Fayette, Henry and Spaulding. It began offering spay/neuter services in March 2019, and since then, it has neutered and spayed 633 animals—119 felines (161 of which are feral) and 353 canines to date.
Why it Matters
"Animals depend on us to help them and provide the care they need. Overpopulation hurts them and our communities. We must use our knowledge to help them, their owners and each other by providing food, medical care, as well as shelter and companionship. It takes a village to successfully do this, and collectively we can fix this problem", concludes Carter. +